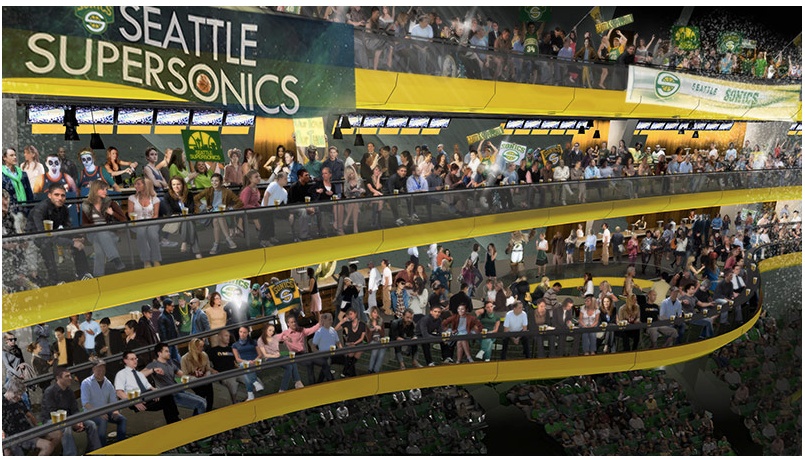 A new Seattle arena from investor Chris Hansen can move forward after a Final Environmental Impact Statement (FEIS) found no significant issues posed by the project, which could host NHL hockey and NBA basketball.
In a posting on the project website, Hansen and crew posted the actual statement while also addressing the potential of an NHL team ending up as a tenant before an NBA team:
We also wanted to take the opportunity to reiterate that we remain 100% supportive of the NHL returning to Seattle and playing in the Arena — and are completely open to the prospect of that occurring prior to the NBA. In light of recent speculation, we would just like to clarify that we have sought to be as accommodating as possible in our negotiations with potential NHL partners, with our only major requirements being that such a deal does not jeopardize the process or put the City, County, Taxpayers or us in a worse financial position.
While this is a major step, it's not the major step needed for arena construction to actually begin. The whole arena plan is built around bringing an NBA team back to town. In fact, the memorandum of understanding (MOU) between Hansen, the city of Seattle and King County is predicated on a new Sonics team in town: nothing happens on a new arena until the city receives an NBA franchise. Now, if an NHL team were available, we're guessing that MOU would be amended to allow construction based on hockey and not NBA basketball, but several governmental bodies would need to sign off on the deal.
The approval comes at a good time, as a competing arena plan emerged last week when a private firm — RLB Holdings Sports and Entertainment LLC — filed an environmental application in Tukwila last week for a project entitled "Northwest Arena."
The new $490-million arena would be located near Safeco Field and CenturyLink Field, with a capacity of 18,500 for NBA basketball and 17,500 for NHL hockey.